Modern-Tec Manufacturing has a simple promise: We will deliver your orders on time, precision machined to your exact specifications and will exceed your quality expectations.
Modern-Tec Manufacturing Inc. is located just outside of Buffalo in Lockport, New York. As a full service CNC machine shop with a tailored specialty employee list, we specialize in providing precision machining solutions, with a technical emphasis placed on multiaxis work. We have a wealth of experience working with Hirth Couplings, which are used for power transfer between an impeller and a shaft. Operating out of our state of the art climate controlled 11,000 square foot facility, we are an ISO 9001-2008 certified company.

Please browse our site and feel free to contact us if you would like a
quote
to complete your latest project.
---
News: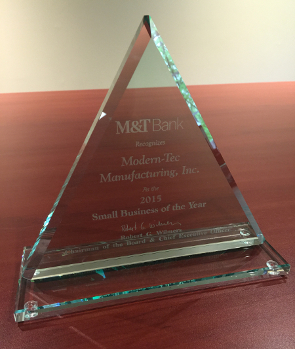 Modern-Tec Named 2015 Small Business of the Year
Modern-Tec ISO 9001 Certification Renewed
Modern-Tec Named to Quality Leadership 100
Modern-Tec Named 2013 Small Business of the Year
Modern-Tec takes part in Case Study by UB TCIE